Episerver (Now Optimizely) vs Agility CMS
Episerver (Optimizely) and Alternatives: Agility CMS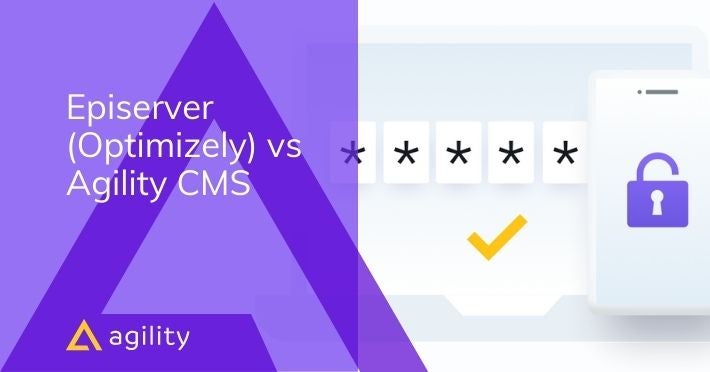 Optimizely (formerly known as Episerver) and Agility CMS have many things in common and check many of the same boxes in reviews. Both Optimizely and Agility CMS are .NET-based hybrid CMSs that have visual editors, and both support both developers and content editors. Still, when it comes down to the nitty-gritty, Agility CMS is a better option for users.
As a CMS that's mainly geared toward enterprise users, Optimizely suffers from many of the drawbacks of enterprise platforms, namely a lack of flexibility and agility when it comes to rolling out new features and giving support to users.
To help you choose the best CMS for your company, we have written a series of comparisons where we give users an overview of Agility CMS and another top headless CMS on the market to help you grasp the sometimes chaotic CMS ecosystem and its multiple vendors.
In this showdown, we pitch Optimizely against Agility CMS and compare both CMSs to see which emerges victorious. Let's start with the comparison.
How Are Optimizely and Agility CMS Different?
Agility CMS Is Easier To Grasp
Optimizely has a steep learning curve. The platform has so many features that it can be difficult to train new team members and help them get started quickly. Also, there's the issue of feature bloat. Optimizey comes with plenty of features that you might not need in your everyday operations or that you could integrate at a later stage but that you still have to pay for, making the platform difficult to grasp. Agility CMS, on the contrary, was built for non-technical users and offers users a no-nonsense approach to content management that people with all kinds of skills and backgrounds can understand and make use of.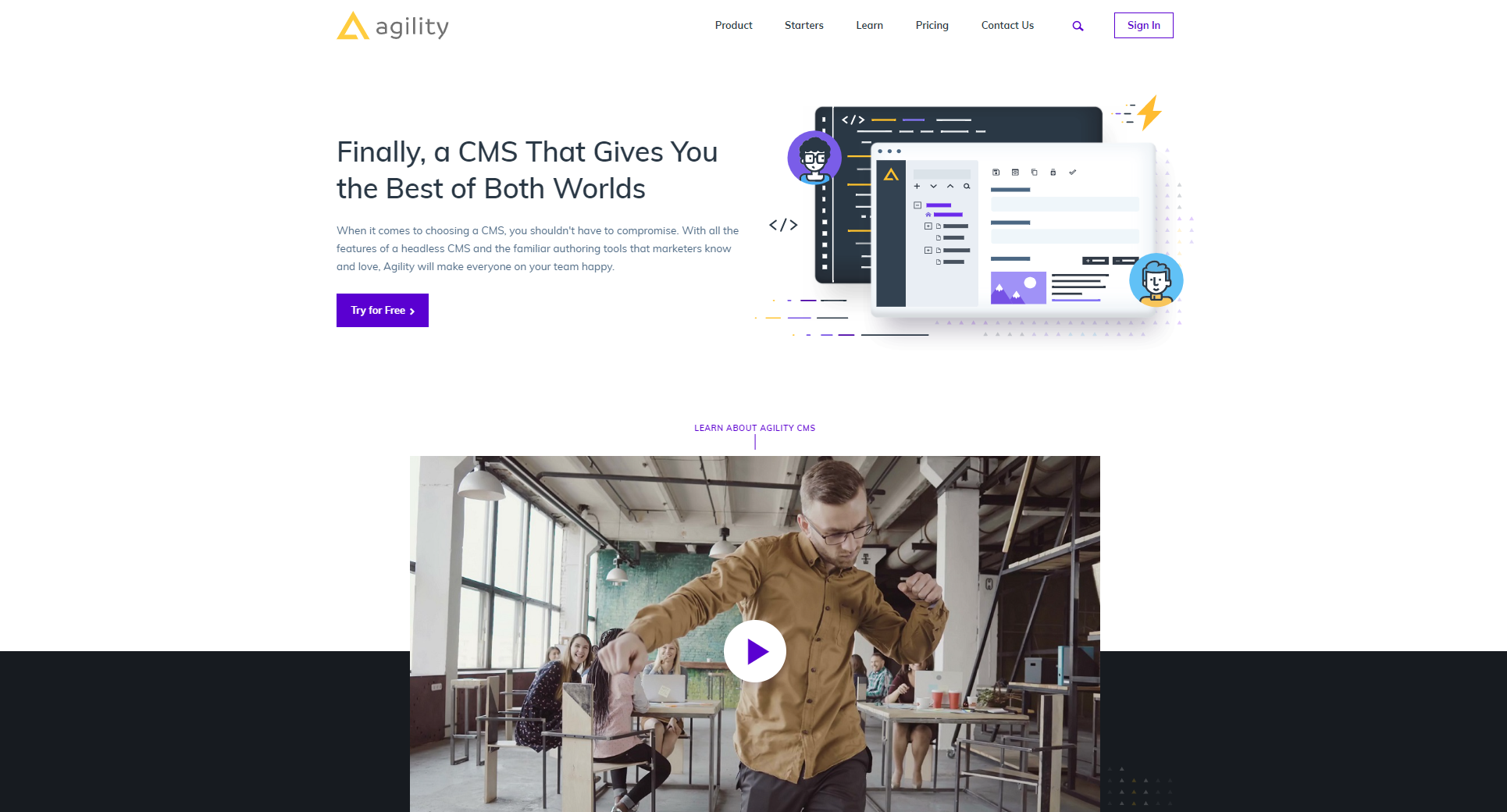 Agility CMS' Support Is Always There for You
Optimizely's support can be spotty at times. While some users report receiving great support, others report the contrary, especially during the onboarding phase where users need closer help and support. That being said, Optimizely's training doesn't always train users to use the platform to its full potential, resulting in frustration. Agility CMS, on the other hand, has many different avenues for support. You can get quick phone support, join the Slack channel, or chat with our support team. In fact, one of the things that most reviewers praise of Agility CMS is its comprehensive support and the fact that we offer phone support to people from every plan, from the free to the enterprise tier.
Users Can Start With Agility CMS Without Dedicated Developers
While a learning curve is expected with every CMS, platforms need to offer users the tools they need to start without developers. With Optimizely, on the other hand, despite all its DXP capabilities, you might need a web developer to publish updates when the requirements are more extensive, which means that you won't get far unless you hire a developer or have solid IT experience in your team. Agility CMS, on the other hand, is built for both technical and non-technical users. Most users can use Agility CMS to create omnichannel digital experiences at scale without any coding skills. Also, you don't need a partner to make the most of Agility, and even if your company could benefit from one, it's not a requirement to make the most out of the platform.
Agility CMS Enables Easier Page Management
Getting started without developers is one thing, but what happens when you run into trouble and need to make changes? For example, when you need to edit the content on your page after it's been published or rearrange the structure to accommodate a new digital asset? Agility CMS' page management functionality simplifies this process for content editors so that they don't need to bother their development team. Editors can manage a site's page tree, page-level SEO, decide what content and functionality goes on each page, and make adjustments for unexpected scenarios.
Agility CMS Gives You More Bang for Your Buck
From the get-go, getting a quote from Optimizely can be challenging, making it difficult for companies to factor in the price of the CMS when calculating their operating costs. Once you get a quote from them, you realize that it's a hefty price, even when considering the tools it has. On the other hand, Agility CMS has a crystal-clear pricing structure that tells everyone, even multimillion-dollar companies, how much the platform will cost them. Optimizely is a solid product and offers some exciting features, but for now, it falls way behind other tools on the market and can't compare or compensate that with the price they charge companies.
Why Agility CMS?
When compared with Optimizely Agility CMS has two main strengths. The first is its speed and ability to get you up and running fast. Unlike other CMSs out there, Agility CMS gives you the tools you need out-of-the-box, which reduces the need for third-party integrations. Optimizely, on the contrary, albeit strong out of the box, has been known to have a steeper learning curve than Agility CMS and other hybrid CMSs on the market.
The second is that Agility CMS was designed with growth in mind. This means that users and companies can start small and scale their online operations with ease and without the constraints of entering headfirst into an agreement with an enterprise solution provider and then finding out that the CMS isn't cut to your expectations.

"I love that Agility CMS gives us the ability to iterate and build components quickly. Changes are reflected extremely fast, allowing the team to make decisions and adapt to new needs with fast turnarounds. Agility also has a great support team/community and their documentation, making it easy to find solutions if you're not acquainted with the platform already. The support for multiple platforms/stacks is also a great asset." Vinicius P, Frontend Developer, G2 Reviewer.
The Verdict
Among the advantages of Agility CMS over Optimizely, we find Agility CMS' has a transparent pricing policy and shows every prospective user what he or she can get from the platform. Optimizely has always catered to enterprise users. It also suffers from the drawbacks enterprise companies face, namely a lack of flexibility and agility when it comes to rolling out new features and giving support.
Plus, Agility has been making waves in the CMS sector, supporting the Jamstack architecture as well as new frontend frameworks and libraries, and has been named a leader by G2, which means that the user community has shown the platform its support; it is also a show of growth potential and user acceptance.