Contentful vs Agility CMS: Which Headless CMS is Right for You?
Why Agility CMS is your best Contentful Alternative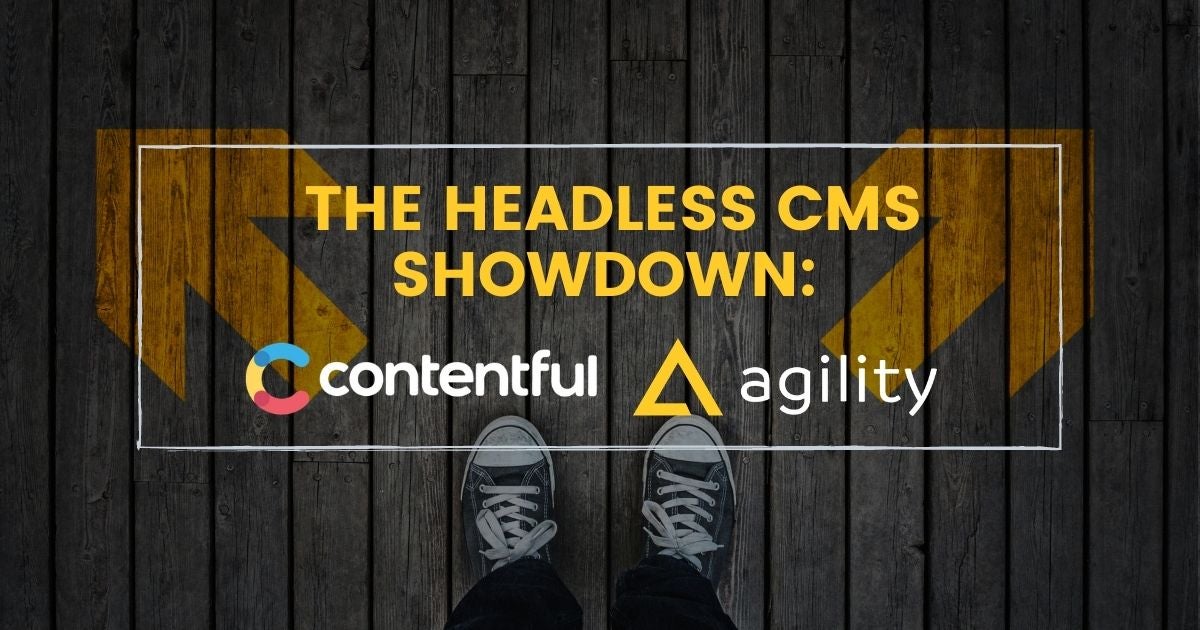 Choosing the right CMS for your company isn't a decision you'll want to take lightly. There are a few things to consider like the importance of performance and speed, the channels you will be using, and what your digital experience might look like in the future.
However, if you're adamant that a content first approach is the right way to go (and you should be!), then you're likely looking for a headless CMS.
The only question is, do you need a pure headless CMS that's built for developers first and foremost to manage content, or would your team benefit from an API-based tool that will help your marketers to manage their website specifically?
To help you decide, we've taken a look at two leading platforms from each side of the fence. Contentful, representing team pure headless CMS, and Agility CMS, flying the flag for decoupled CMS and marketer-friendly headless technology. Let's dive in.
The Best Contentful Alternative: Agility CMS
Agility CMS and Contentful are both headless CMS platforms, and this can be seen in the way they approach managing content. Headless CMSs are the dominant trend in content management and the preferred choice for establishing a digital presence today due to the flexibility and ease of use across multiple channels. Developers can connect a robust backend to several different frontends, allowing for the creation of a terrific omnichannel marketing experiences for customers. Marketers and content editors can create, edit and manage content assets and get them ready for display on one of the many channels.
Contentful considers itself a content platform rather than a CMS, allowing organizations to control their content from a single hub and publish to any digital channel. The Contentful architecture is built on top of AWS, and like many pure headless CMS platforms, was created with developers in mind. Contentful offers support for all of the modern programming languages like JavaScript and its frameworks.
Agility CMS is touted as the fastest headless CMS and has been one of the brands to help usher in the headless CMS trend. Hosted on Microsoft's Azure Cloud, Agility has always focused on a content-first methodology, also known as content architecture. Similar to Contentful, Agility CMS acts as a content hub for all digital assets. However, it also offers services for eCommerce, eTicketing, Search and User Generated Content, and it wasn't only built with developers in mind, but instead takes a holistic approach to content management in the organization. Users agree that Agility's features have everything needed in a CMS platform.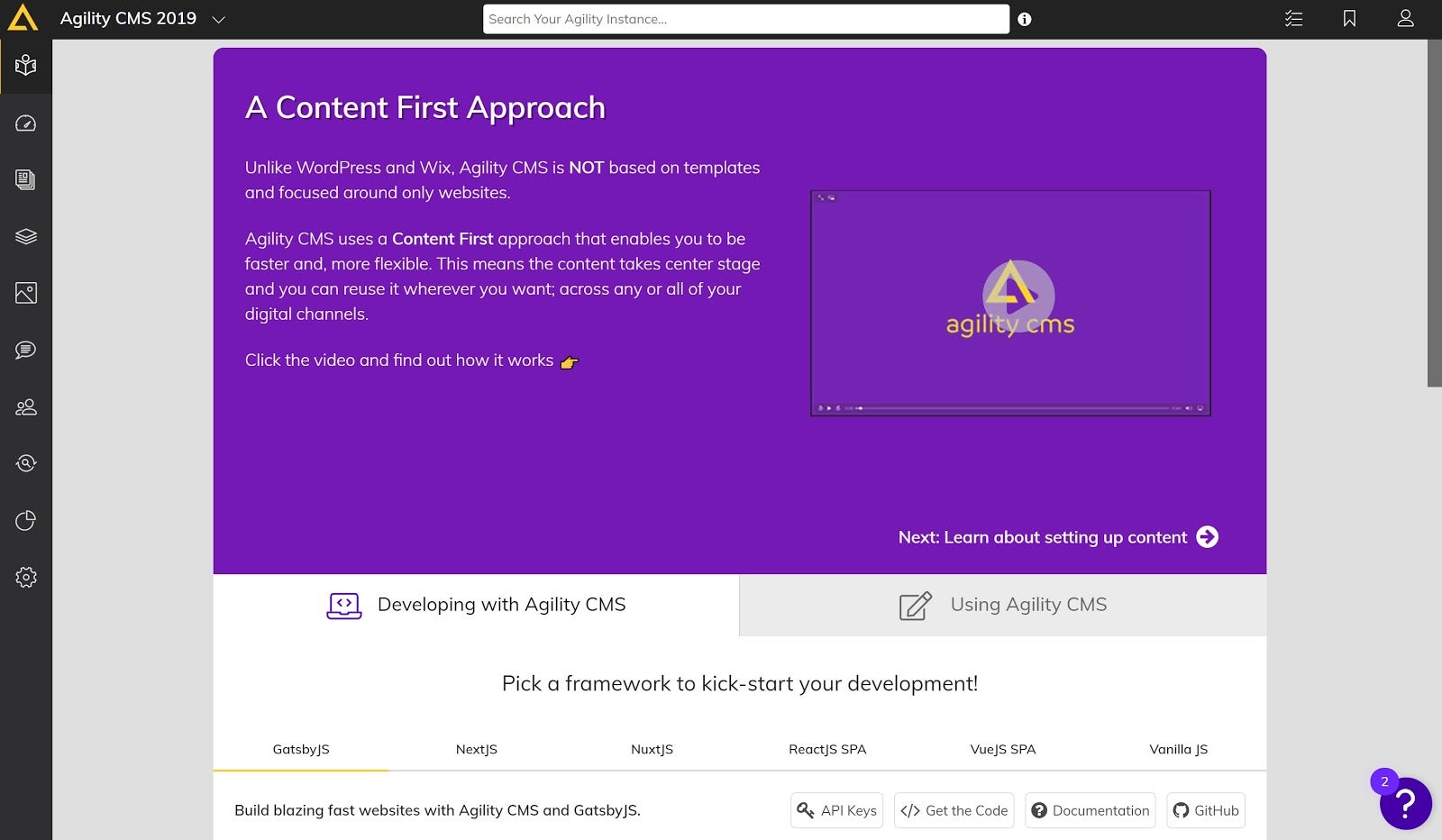 Agility CMS

"The combination of Agility's built-in features and front-end flexibility have been great. There's a significant productivity boost compared to our old CMS. The ability to review edits immediately after making them has been an asset. The global search functionality has also enhanced productivity. Being able to batch upload images has been a great help, too." Travis G, Front End Developer, G2 Crowd Reviewer.
Different Approaches to Content Management
Which top CMS meets your needs?
Agility CMS and Contentful do have some similarities in the importance they both place on content structure. However, the means of implementation are quite different.
To begin, let's take a look at how the verified G2 reviews stack up.
Out of the 9 content-related categories, Agility CMS is deemed better than Contentful in 3 categories, equal in 2 categories, and less-preferable in 4 categories. However, it's worth noting that, at the time of writing, Contentful content approval isn't offered, while Agility CMS has this feature.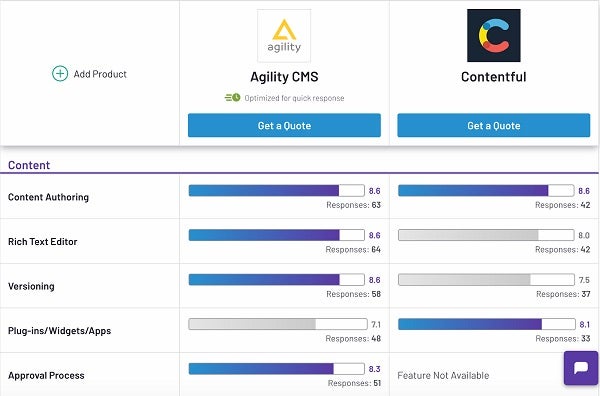 Content Architecture vs Content Infrastructure
Is granular content architecture for you?
Agility CMS has devised the best Content Architecture to help brands manage their digital content. Agility's content architecture provides a central hub for creating, editing and managing content. Content is stored within the content architecture, and it is then accessed via APIs by developers.
This architecture is made up on three elements:
Content Warehouse: Your content warehouse is your central hub. It's where your content, assets, categorization, and tagging lives.
Property Instances: Your property instances are your frontends, whatever or wherever they may be. Websites, Single Page Applications, and smartphone apps are all separate properties, fueled by content from your Content Warehouse.

Content Network: Once your Content Warehouse and Property Instances are connected and working together, you've got yourself a network.
Contentful's "Content Infrastructure" is similar in the sense that it also enables brands to centralize their content, and distribute it to any frontend using APIs. However, Contentful users are unable to configure that infrastructure on a granular level, like they can with Agility CMS's modular architecture.
With Agility's Content Warehouse, marketers can segregate content that's channel or frontend specific, and content that can be re-used anywhere. This simplifies the Content Warehouse, keeps the architecture clean, and stops content that can be used anywhere mixing with content that's only meant for your website. For instance. Contentful users could build a similar system, but it's not built that way out of the box like it is with Agility CMS.
Content Definitions vs Content Types
What's the best way to organize content?
Both Agility CMS and Contentful define content differently within each CMS. In Agility, Content Definitions allow content to be arranged into Lists and Items. Content managers can add fields with specified data types to each definition.
In Contentful, Content Types function similarly. Data types are standard, including Attachments, and custom fields types can be added to each by developers.
While both Content Definitions and Content Types function similarly, the differences appear once Rich Text fields are added. In Agility CMS, the HTML content is passed through to the consumer API caller. Contentful meanwhile, converts the values to customized hierarchical JSON format. This is where Agility CMS stands out, as it makes it much easier to render raw HTML to a web page. That's because Agility CMS delivers HTML content directly through the API. This means you can use one or more HTML data within a given record and give your editors more control over the display without having to re-process everything.
In cases where you don't want your editors to have that control, you can use plain text fields and template the content.


Content Relationship Management: Contentful vs Agility CMS: Which CMS is more user-friendly?
Agility CMS allows for detailed content relationship management. The way in which you relate content is facilitated by using Linked Content fields in your Content/Module Definitions. There are a variety of Linked Content field types for different purposes. For example, you may want to create a one-to-one, many-to-one or one-to-many relationships.
For instance, if you wanted to give content authors the ability to add a post author to every blog post, you could do so by adding a drop-down menu containing all authors names. When selected, Agility CMS can fetch the author name as selected, as well as their bio, Twitter handle, and website URL, all in one API call. This is thanks to the Content Fetch API, which automatically resolves linked content references and provides all the associated content in a single API call.
Not only is this helpful for editors in the CMS, but it can also be useful for developers as they model their content architecture and directly influence what content is returned by the Content Fetch API.
Contentful also uses reference fields to create relationships between content types, but it doesn't offer interactive and flexible drop-down lists, grids, searchable tabs. By including these more user-friendly and more flexible content modelling options, Agility CMS puts more power back in the hands of marketers, content authors, and non-technical users—without taking any power away from developers.
This makes Agility CMS the best Contentful competitor for professionals looking for a powerful user-friendly CMS.
Custom Fields: What are custom CMS fields and why do they matter?
Both Contentful and Agility CMS support custom fields. With custom fields, a developer can create an input field that calls out to an external service.
For instance, Agility CMS customer Cineplex's Theatre & Film has developed an API that grabs external data about its movies, enabling Agility CMS to populate pages with all the information—from cast members to duration—using a single API call. Essentially, these custom fields enable content relationships with external systems.
Marketer-friendly Page Management: How Will you Manage Your Website?
Agility CMS' approach to content is different from that of Contentful, but where it begins to surge ahead and establishes itself as a better CMS option is through its Page Management feature.
Unlike with other headless CMS platforms like Contentful, in Agility CMS, the task of page management isn't a developer issue that needs to be added to their workload. Instead, it becomes the responsibility of the content team. Editors are able to update pages and sitemaps without having to rely on the development team.
With Agility CMS, Pages are treated as Objects that have unique actions that are always repeatable, like previewing, redirections, and relating in sitemaps. With other headless CMS platforms, companies need to create their own unique way of handling pages, which creates differences, duplication, learning curves, and extra work.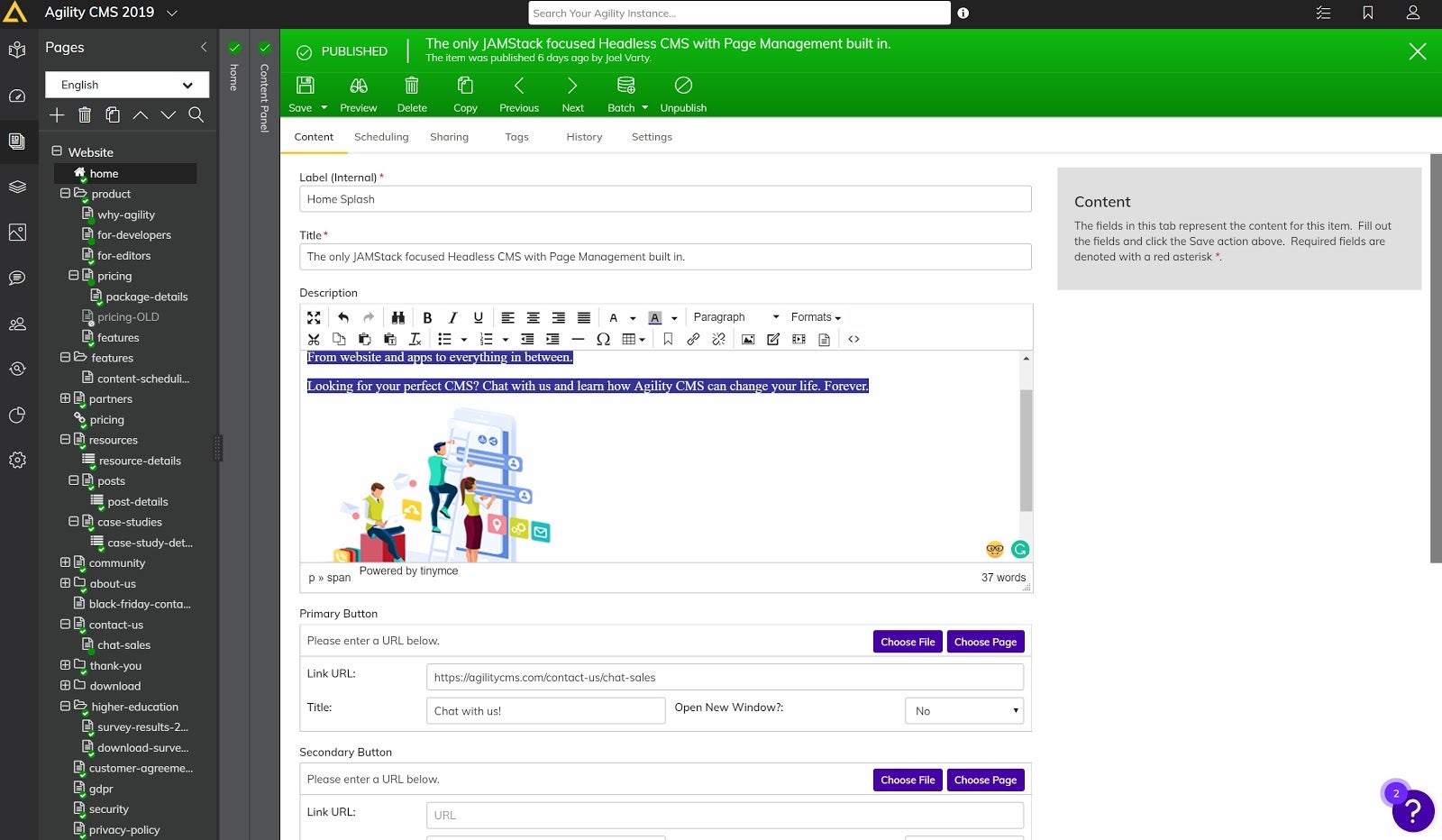 Other headless CMS platforms miss the concept of page management, as even though the content is separated from the frontend layer, pages still need to be managed in the traditional sense, particularly when a brand's website makes up the core of their content. With Agility CMS, pages can be used for website content, but also for screens, apps, or any other content-based frontend that has a page-like structure. .
As G2 shows, Agility CMS impresses users when it comes to "Breadth of Pre-built Templates", "Branding and Themes", as well as "Mobile" front end design. Like other headless CMS, Agility doesn't have a marketplace of pre-built templates. These positive reviews are in reference to Agility CMS' marketer-friendly features, which enable marketers to more easily create content for the templates their developers build. Moreover, they're more easily able to brand their digital experiences thanks to marketer-friendly features such as page management and content previewing.
Contentful doesn't offer these marketer-facing features at all. With Contentful, page management needs to be built and configured by developers so marketers can modify URLs, preview content, and so forth. Thus Agility CMS is the CMS for marketers.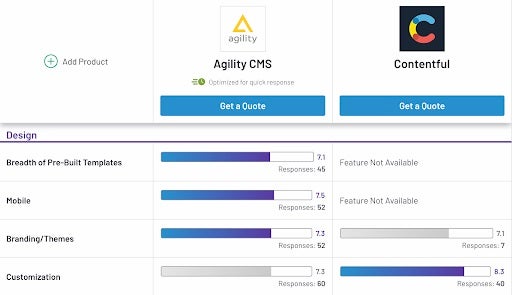 Marketer Empowerment vs Raw Content Management
Agility CMS is favored by business decision-makers and makes it easy for editors and developers to work with pages. Contentful, on the other hand, was never built to serve non-technical users; it's all about raw content management with developers leading the line.
"We researched so many CMS options when we decided to rebuild our website. We ultimately chose Agility. It was a standout in terms of flexibility, ease of use, cost, and good basic built-in structure. It has been easy to build out the components we need to express our content in ways that best suit our audience." Anna B, Small-Business, G2 Crowd Reviewer.
The templates and definitions are all created by the developers, and then editors can decide for themselves how to best use those templates. With the ability to manage page content for multiple channels, editors using Agility CMS have a clear advantage over those using other CMS platforms that need to rely on developers continually.
Agility CMS and Contentful are two of the top headless CMS platforms in the industry today. Both take a content-first approach to content management and provide features that are beneficial to both editors and developers. Content architecture and content infrastructure both provide the foundation for a great content management system. However, by focusing on page management Agility CMS adds that extra piece that others have missed.
Here's a handy comparison table that should guide you when comparing both software solutions.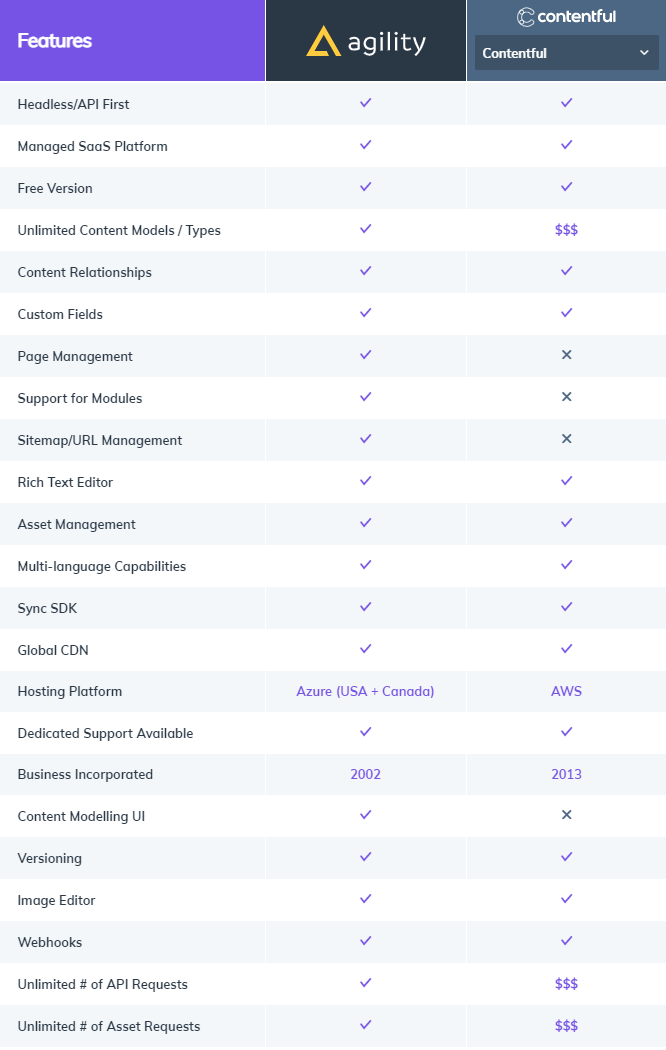 Customer Reviews
Both Contentful and Agility CMS were named Leaders in the Headless CMS market for Spring 2021 G2 Crowd Grit Report based on consumer reviews.
In G2's Spring 2021 Reports, Agility CMS received 6 badges including:
Leader, Grid® Report for Headless CMS - Products that are awarded the Leader badge have been highly rated by G2 users and have substantial satisfaction and Market Presence scores.
High Performer, Grid® Report for Web Content Management

- Products in the High Performer quadrant in the Grid® Report have high customer Satisfaction scores and lower Market Presence scores compared to the rest of the category.
High Performer, Enterprise CMS

- Products in the High Performer quadrant in the

Enterprise

Report have high customer Satisfaction scores and lower Market Presence scores compared to the rest of the category.
Users Love Us

- The Users Love Us badge is earned after collecting 20 reviews with an average rating of 4.0 stars.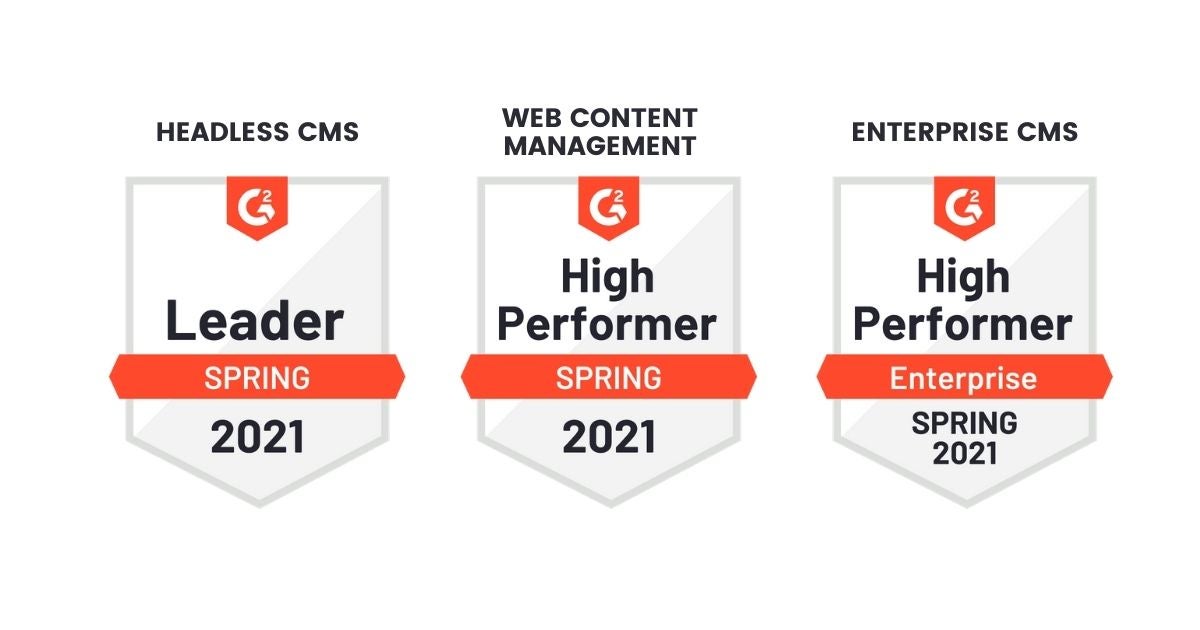 Keep Reading
If you want to learn more about Headless CMSs, make sure you read these articles:
Watch the Agility CMS Walkthrough:
Back to All Resources