The Path to Modern Web: How Developers and Agencies can Start with JAMstack and Grow in 2021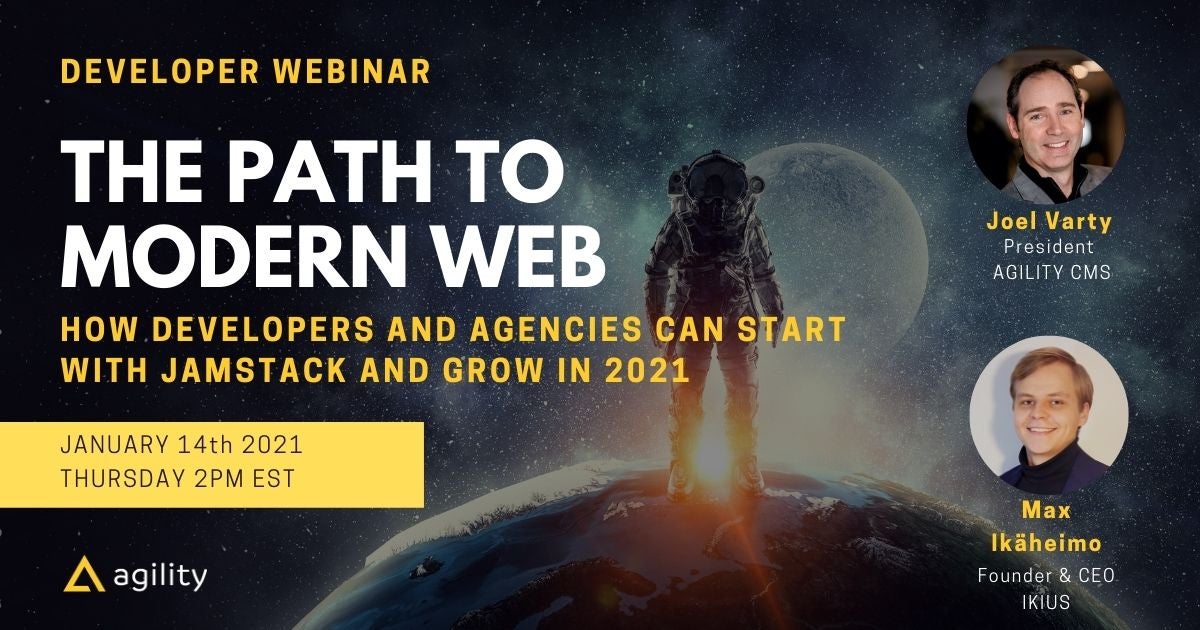 In the past five years, JAMstack has seen meteoric growth, going from a relatively small, obscure tech stack to one of the most widely-adopted architectures.
Are you in the process of transitioning from monolithic web applications?
Do you want to start creating apps using a decoupled architecture that relies on APIs and microservices?
Are you ready for building lightweight, blazing-fast apps that can be scaled independently?
Then this webinar with Agility CMS from Canada and Ikius JAmstack Dev Agency from Finland - is for you!
Take advantage of JAMStack without rebuilding everything
We often talk about being agile, and this leads right into that concept.
You want to be able to take small chunks and incrementally build on them over time. What this means for you right now is that you can take advantage of JAMStack without rebuilding everything.
What will you learn?
1 | Intro to JAMstack and How to sell JAMstack and Headless CMS to your peers and managers
2 | How to design a migration path from a traditional site to a JAMstack site
3 | How Ikius started a JAMstack agency, instead of building Wordpress websites for their clients and what they learned in the process

Why should you watch?
1 | You want to start using modern web JAMstack technology stack
2 | You've heard about JAMStack, but you think it's only for new builds
3 | You want to get a head start on a popular technology