Helpful resources. Tips, tricks and more.
Here you will find how-tos, tutorials, success stories and other tools to help you create and manage content.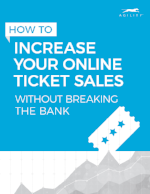 White Paper: How To Increase Your Online Ticket Sales Without Breaking the Bank
As a business that sells tickets, keeping your sales up and finding new revenue opportunities is a huge challenge. But what if we told you that maximizing your existing sales and revenue channels could be just as impactful?