All your digital properties. One platform.
Agility is a website management system that helps you deliver content, sell products online and increase customer engagement.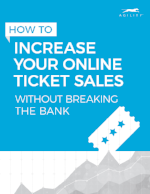 White Paper: How To Increase Your Online Ticket Sales Without Breaking the Bank
As a business that sells tickets, keeping your sales up and finding new revenue opportunities is a huge challenge. But what if we told you that maximizing your existing sales and revenue channels could be just as impactful?