Living Arts Centre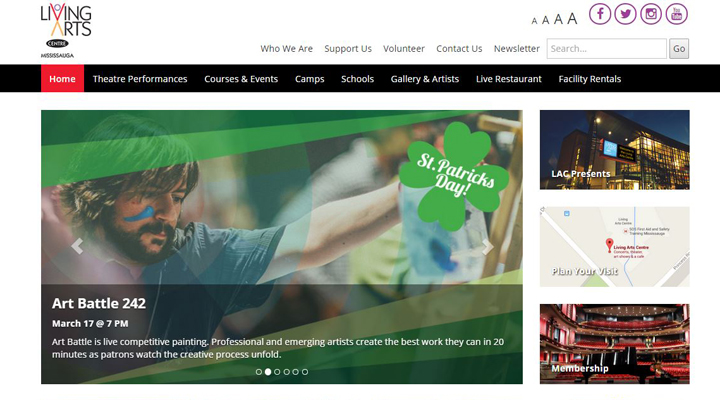 The Living Arts Centre, located in Mississauga's City Centre, is a cultural landmark and resource for arts, education and business in the Greater Toronto Area.
The Centre houses 225,000 square feet of performance venues, studio spaces and exhibition display areas. Since it opened its doors in 1997, more than five million people have visited the Living Arts Centre to enjoy performances, showcases, conferences and a variety of other events.
The Living Arts Centre's companion website also serves as an important resource as it provides facility booking information, event details, ticket purchasing and much more. In mid-2014, the Living Arts Centre's marketing team began rebuilding its website on the Agility CMS Platform. The site launched in early 2015.
Challenge
The Living Arts Centre's previous website was built and managed on a complicated content management platform that required manual HTML and CSS to update and publish content on the website.
When the brand set out to rebuild its website, the online team wanted to implement a user-friendly content management platform in order for its users to rely less on manual configuration and technical know-how to create content and update the website.
Another top priority of the LivingArtsCentre.ca overhaul was to design and build a website that could be optimally consumed across different devices – desktops, smartphones and tablets.
The new website also had to comply with the Accessibility for Ontarians with Disabilities Act, legislation that mandates a set of guidelines to ensure websites are accessible and user-friendly for those with disabilities.
The legislation kicked in January 1, 2014. After this date, a public website that is launched or significantly refreshed (and any content published after January 1, 2012), must follow the World Wide Web Content Accessibility Guidelines.
Solution
The Agility CMS Platform includes content management features that make publishing content and updating websites easy for even the most non-tech savvy users.
The marketing team no longer has to rely on manual HTML and CSS coding.
The Agility CMS-powered website boasts a clean and modern design that it easy to navigate.
It was built using a responsive design framework, and the website's layout adapts to its viewing environment in order to be optimally consumed across different devices.
To comply with the Accessibility for Ontarians with Disabilities Act, content on the website is now more accessible as it provides users with the option to view the site in large font sizes. Additionally, the website's content can be consumed using assisted technologies, like screen readers, without losing any meaning.
Results
The implementation of Agility CMS has been a big success for the Living Arts Centres' marketing team.
"Agility CMS is a huge improvement from our previous content management platform. Creating and publishing content is now simple and streamlined. It was also great working with the Agility CMS Team. They were helpful, quick to respond and very knowledgeable about their product," Gary Li, Digital Marketing Specialist for the Living Arts Centre, said.
"We love the updated and modern design – it's a big step forward for the Living Arts Centre's brand."
Visit the website: LivingArtsCentre.ca
Benefits of Agility CMS for brands like the Living Arts Centre:
We bring an industry leading level of performance to your website. Agility's proprietary caching technology extends the caching capabilities in ASP.NET to provide blazing fast performance on any size of site with any traffic load. Agility also supports load-balanced configurations for your Web site
Create multiple media libraries to store and stream your content, from images, music and video, to PDFs, Flash or Silverlight applications and more
Use our Modules – widgets – to add static, dynamic or interactive content. Modules like online forms, image galleries and newsletter subscription boxes
Standardized workflows for your content and media teams. Workflows can be managed automatically or manually, and users can easily follow and define each step
The platform is built for mobile. It includes built-in responsive design capabilities and can build mobile apps and dedicated mobile sites
Sites are search engine optimized and indexed by Google and other search engines
See all of the features that Agility CMS provides here
REQUEST DEMO