BioSteel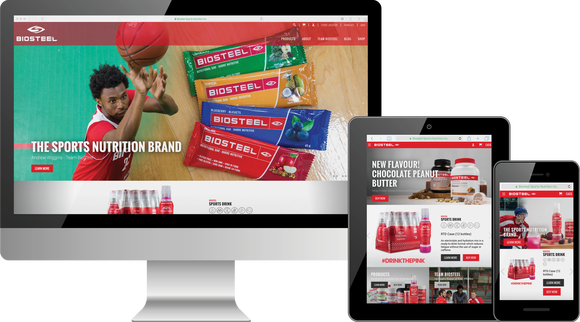 BioSteel is an online retailer of nutrition products and supplements for athletes and exercise enthusiasts.
BioSteel was undergoing rapid growth and needed a solution that could scale with them as they grew. They had also recently re-branded and wanted their website to reflect their new brand.
Most importantly, due to their growth, BioSteel was in need of an Ecommerce solution to help them manage their products online more efficiently, as well as support a higher volume of website traffic and online sales.
CHALLENGES
Before Agility, BioSteel's website was built and managed by their in-house IT team. Updating the site was a time-consuming process as it required Marketing to rely on IT for any updates. With the rebuild, they wanted their online selling process to become more efficient and scalable, and to make it as easy as possible for visitors to convert.
This required building attractive landing pages that allowed users to research their products as quickly and smoothly as possible. It also required setting up smoother integrations with distribution warehouses that had previously relied on heavy manual processes and were prone to human error.
The biggest challenge was scalability. Their previous website's performance would dip significantly during peak traffic times. Pages would load very slowly or become unresponsive and checkout processes would time out. This led to frustrated customers, abandoned orders and significant missed revenue.
Finally, BioSteel wanted to take advantage of mobile sales by making their site accessible and user-friendly on mobile. This included ensuring that the user experience was consistent across devices and touchpoints, making it quick and easy for customers to learn about their products, find the right one and purchase it.
"Agility's Ecommerce solution has enabled our team to easily manage our products online. Being able to manage everything centrally from Agility without needing to integrate with a 3rd party Ecommerce platform has ensured efficiency and consistency in our design. We no longer have to worry about our site crashing during high-traffic periods as Agility is able to provide auto-scaling capabilities and additional cloud resources."
– Anthony Mila, Director of Marketing, BioSteel
SOLUTION
The first step of rebuilding BioSteel's site was to carefully examine how customers were interacting with the website and how content editors were managing website content. From there the Agility team was able to draw their top business cases from both a customer and content editor perspective, and come up with ways to make both experiences more efficient.
Based on this research, the Agility team customized their content architecture around their business cases, ensuring that all of the content in the CMS and Ecommerce was structured in a way that was easy for their content editors to produce, find, edit and review internally.
As a result, creating new products and updating content became a much easier and faster process that could be executed by anyone on the BioSteel team, regardless of their technical skills or experience. Now each of BioSteel's products has its own dedicated page that provides details on anything a customer could wish to know, including videos, nutrition facts, FAQs, etc.
The website was also seamlessly integrated with independent distribution warehouses in the US and Canada through custom integrations. The Agility solution provided BioSteel with the scalability they needed by allowing their servers to be expanded during
peak traffic times, such as Black Friday weekend. In previous years their site had often crashed or not performed through the huge traffic spikes during Black Friday weekend sales. With Agility's flexible hosting options, it not only remained up and running, but did so without a single performance issue. The result for Biosteel was seeing their Black Friday weekend revenue increase by almost double from the previous year!
The biggest benefit for BioSteel was the strong integration between the Ecommerce solution and the Agility CMS platform. Being able to manage both from a central hub meant that they didn't need to train their staff on two separate platforms, or edit content twice every time there was an update. Content editors were also able to correlate product data to different content across the website, such as relating certain products to certain blog posts, giving their customers more opportunities to purchase products.
OUTCOME
Agility CMS allowed BioSteel to streamline their entire website and to leverage it as a tool that brings in engaging content and gives customers a better vision of what BioSteel is all about. Agility also helped them sell more products by making their online shopping experience as seamless and user-friendly as possible.
Having dedicated pages for each product has also ensured that they are indexed by search engines such as Google, improving their overall SEO performance and making it easier for customers to find what they need.
Internally, Agility improved content editors' experience significantly by allowing them to create, edit and update content much faster and to keep content up-to-date across the CMS and Ecommerce. By reducing the amount of manual processes they manage, Agility helped them reduce the chance of human error.
Agility's Ecommerce solution also provided BioSteel with multiple reporting options to help them make better data-driven decisions. The team find particularly useful the in-depth sales reports and the web traffic reports, which allow them to see when traffic is spiking. They also find helpful the ability to create and track promotions and, particularly, to create promo codes specific to an account.
Externally, the new site also created a much more positive experience for BioSteel's customers, with faster loading times, easy-to-find product pages, more intuitive site navigation, a seamless mobile experience and a faster checkout process.
Thanks to Agility's scalability options, Black Friday was a huge success, with revenue over doubling compared to the previous year. What was previously a highly stressful time when the website always experience performance issues now became a time of celebration thanks to their unprecedented sales and positive customer feedback.
CHALLENGES
Time-consuming site updates.
Inefficient online selling process.
Heavily manual integrations with distribution warehouses.
Lower performance during high-traffic spikes.
Inaccessible and user-unfriendly mobile site.
Difficult-to-manage content across CMS and Ecommerce.
SOLUTION
Intuitive product pages anyone can update regardless of technical skills.
User-friendly content architecture built around top use cases.
Seamless custom integrations with independent distribution warehouses.
Scalable hosting options that can be customized around traffic trends.
Seamless mobile experience across devices and touchpoints.
Smooth integration between CMS and Ecommerce, managed from a central hub.
OUTCOME
Dedicated product pages with in-depth product information.
Improved and faster content editing experience less prone to human error.
Faster loading times, easy-to-find product pages, more intuitive site navigation and seamless checkout process.
83% increase in revenue during Black Friday weekend compared to the previous year thanks to Agility's scalability options.
In-depth sales and web traffic reports.
REQUEST DEMO