Winner of Point Alliance Website Giveaway Goes Live
Jillean Kearney - June 12-2014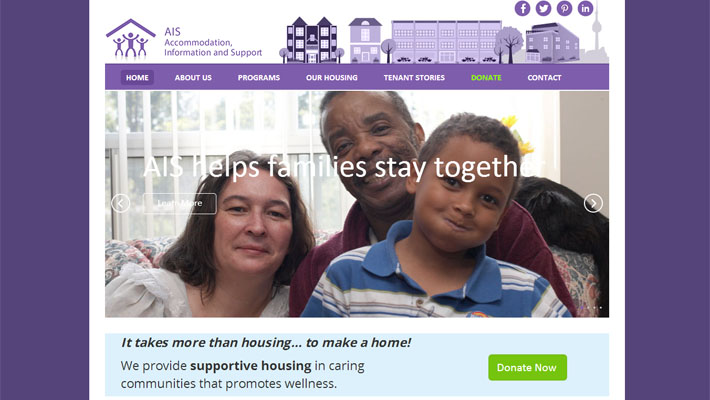 Last summer, our partner Point Alliance celebrated its eleventh anniversary by launching a contest to set up a Canadian non-profit organization with a brand new, free website hosted by Agility.
The winner of the contest, Accommodation, Information and Support Inc. (AIS), was announced in December. Their new site, aistoronto.ca, recently went live.
"Supporting our community has become increasingly important to the Agility team," CEO Jon Voigt said. "We're very happy that we are able to work with partners that share the same values as us."
The contest began back in July when Point Alliance put out an open call for all Canadian non-profit organizations to submit applications explaining how a new website would benefit their cause. The AIS mission is to provide affordable housing and support in Toronto to persons who live with mental health challenges or face homelessness.
Their new website will help them build a stronger online presence, and it will serve as a place for AIS to engage current and future donors that support their cause of building more supportive housing and unique programming.
News Releases

Read about Agility Ticketing, our integrated solution to help you sell, generate and redeem tickets.

Read about Agility's new eCommerce solution, customizable and tailored to your needs, with a special emphasis on tracking valuable sales data and trends.

Agility, revamped and redesigned, has hit production status – and with this milestone comes a slew of new features and updates.