Magazine Suite June 2013 Release Highlights
Anthony Valela - June 26-2013
The Agility Magazine Suite June 2013 Release introduces a handful of new features, as well as improvements to several existing modules/functionality within the Magazine Suite.
Read on for more details!
New Features
Responsive Template
The Magazine Suite's Website Digital Channel now includes a Responsive Template. This means your webpages will automatically resize to fit any device it is loaded on. This ensures your website can be viewed comfortably using a smartphone, tablet, laptop, or desktop.
Load up your website on your desktop and you will see your regular layout. However loading it up on a smaller device, you will notice the Sidebar Content Zone disappear, bringing your Main Content Zone to the forefront, increasing font size, and stacking your content accordingly.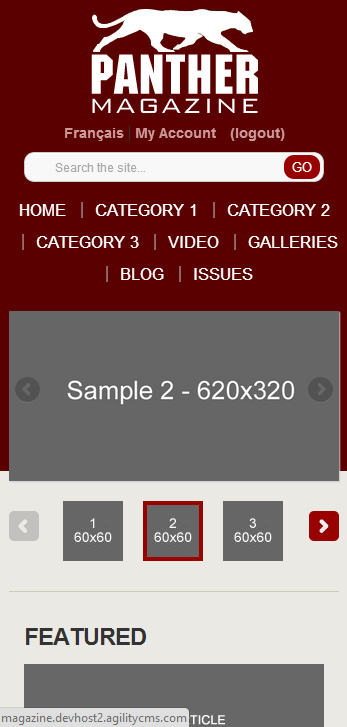 Error Message Module
The Error Message Module uses a Rich Text Area to assist the visitor in finding what they are looking.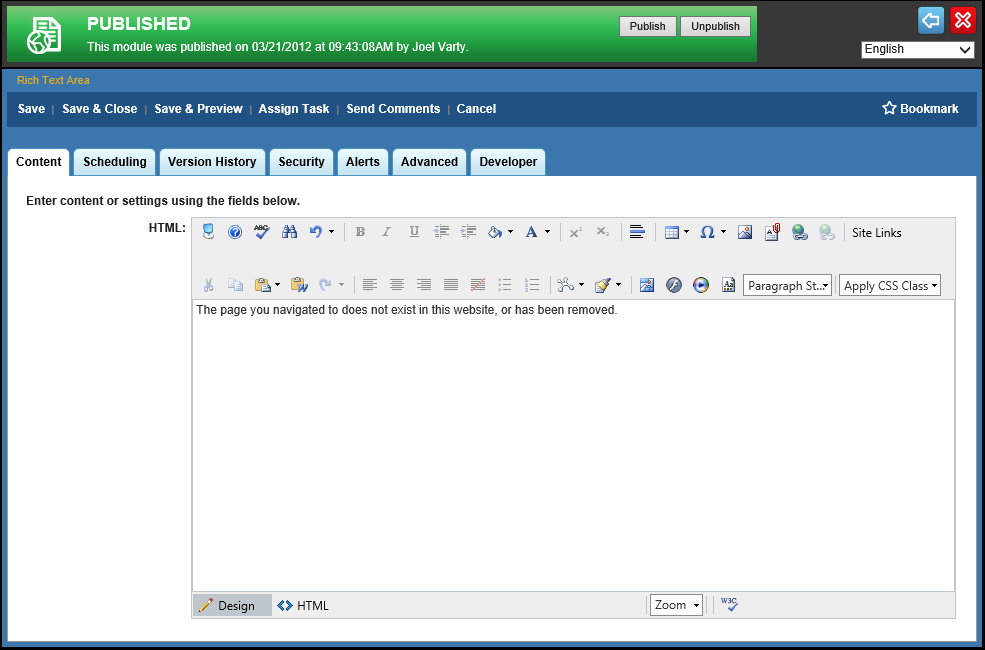 How To: Add an Error Message Module to your existing Error page
In the Magazine Suite, you will find an Error page within your Website Tree. This Error page is used on all errors that could possibly occur on your site such as 404 (URL not found, most common) and 500 (maintenance or other) errors. It?s important to provide a comforting error to your users and provide them other options to help find what they are looking for.
Navigate to Pages, then select the Error page from the Website Tree.
Click the Add button within the Main Content Zone.




Select Error Message from the list of available modules.
Edit the Text property as you see fit.
Click Save & Preview to verify your changes.
If you are satisfied, click Publish.
Collect Box Module
The Collect Box module allows content editors to add creative, similar to the Box Ad module and when clicked will display a small form for users to submit data. This module utilizes the same functionality as the Form module, but combines an additional tab for Creative (300x250).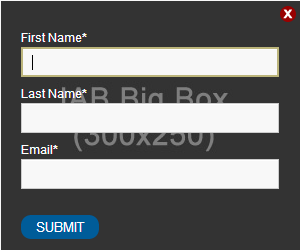 How To: Add a Collect Box Module
Navigate to Pages and select a page of your choice.
Click the Add button within the Sidebar Content Zone to add a module.
Select Collect Box from the list of available modules.
In the Creative tab, click Browse on the Image (300x250) property and select an image. This will be the image that is initially visible and should entice the visitor to click the creative.
Next, move onto the Form tab and setup your desired form. Refer to the Form module instructions for information on setting this up.
Click Save & Preview to verify your changes.
If you are satisfied, click Publish.
Recent Activity Module
The Recent Activity module displays a list of Articles and/or Blog Posts which have recently been commented on. It includes the user's profile picture (if available) as well as a link their profile bio (if a contributor) and a link to the Article or Blog Post in which they commented on.
Note: This module's data is cached up to an hour, therefore new comments may take up to an hour to display.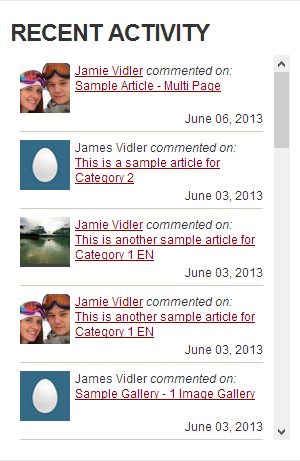 How To: Add a Recent Activity Module
Navigate to Pages and select a page of your choice.
Click the Add button within the Sidebar Content Zone to add a module.
Optionally, set a value for the Module Title.
Set a value for the amount of comments to display (Display Count).
Optionally change the value of the Commented On Label.
Check the boxes marked From Blog Posts and/or From Articles to decide from which list(s) of content you would like to highlight.
Click Save & Preview to verify your changes.
If you are satisfied, click Publish.
Improvements
Article Details Module
The Article Details module can now be placed under a category listing page. This enables content editors to customize the modules on that details page for a specific category rather than using the shared page under articles/article-details.
Article Listing Module
Has been improved to fit in the Sidebar Content Zone to allow content editors to highlight specific articles from a category in the right column. The module will automatically resize and hide any filter options (if enabled in the module).
Latest Articles Module
You may now filter a Latest Articles module to only displays articles of a specific type, such as Galleries, Videos, Articles, or All. This allows content editors to create Latest Videos, or Latest Galleries modules.
Image Slider Module: Select an Article to link to directly from the Module
You may now select dynamic page items from the built-in link picker in Agility. This improvement has allowed linking an Image Slide directly to an Article.
Comments Module
The authentication tab will display the last login method used (if not already logged in).
Website Users may now Edit or Delete comments by clicking the link beside their comment within the comment listing. Note: you cannot Edit or Delete a comment if there is an existing Reply to that comment.
When submitting a comment which contains a URL, the comment will automatically be wrapped in an anchor tag when submitted (only if the <a> tag is allowed, set in the Comments module properties).
Comment Names and Avatars will now be hyperlinked where available to the User's Bio page or their Website URL (as defined in their user profile).
Sitemap.xml
Listing images, and photos within Blog Posts or Articles now appear in the Sitemap.xml. This should improve image search SEO.
Stay tuned for more updates coming soon!
News Releases

Azure is helping Agility provide the scalability, reliability and security as part of our mission to offer customers a fully integrated web platform to manage all their web properties.

Read about Agility Ticketing, our integrated solution to help you sell, generate and redeem tickets.

Read about Agility's new Ecommerce solution, customizable and tailored to your needs, with a special emphasis on tracking valuable sales data and trends.