Fully featured. Intuitive functionality.
Agility CMS has the features and functionality to easily create and manage your content.

Content Management
Files, Images and Video
WYSIWYG Editor
Version History and Archiving
Modules
Multi-lingual Content
Translation Management
Image Editor
Document Management
Media Libraries
Banner Management
Separation of Content & Design
Custom Document Types
Spell-Checker
Standard Workflows

Popular Modules & Features
Content Rating
Event Calendar
Google Maps Integration
Image Galleries
Staging and Synchronization
Shared Content
REST APIs
Task Management
Global Script Management
Multi-Publishing Functionality
Linked Content
Recent Changes Reports
Page Templates
Advertisement Management

Publishing
Social Sharing
Polls
Contributor Workflow
Popular Articles
Featured Content
Related Articles
Latest Articles
Tags
Categories
Category Pages
Keyword Pages
Commenting that is Enabled/Disabled per Article
Magazine Issues Pages
iOS App

Website
Mobile Support
Scalability & Performance
Friendly URLs
Full Text Search (Google Site Search)
Cloud Support
Webfarm Support
Web Standards
Microsoft Azure

Social Interactions/Networking
Social Media Integration
User-Generated Content
User Profiles & Management
Authentication
Abuse Flagging
Bad & Illegal Word Filtering
Blogs
Forums

Online Marketing
Customer & Lead Management
Content Personalization
Integrated Email Marketing
Forms
Integrated Strands Recommender
Analytics (Integrated)
SEO (Search Engine Optimization)
RSS/Atom/XML Syndication

Development
Extensibility & API
Content API
Rapid Browser-Based Development
Team Development
Visual Studio Integration

Security
Flexible Security
SSL Support
ISO Certifications from Azure
Nightly Backups
Health Checks

Ecommerce
Custom Product Types
Reports
Third Party Integrations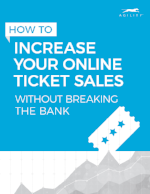 White Paper: How To Increase Your Online Ticket Sales Without Breaking the Bank
As a business that sells tickets, keeping your sales up and finding new revenue opportunities is a huge challenge. But what if we told you that maximizing your existing sales and revenue channels could be just as impactful?