Chill Magazine Launches New Site with Publishing Package
Jillean Kearney - June 17-2014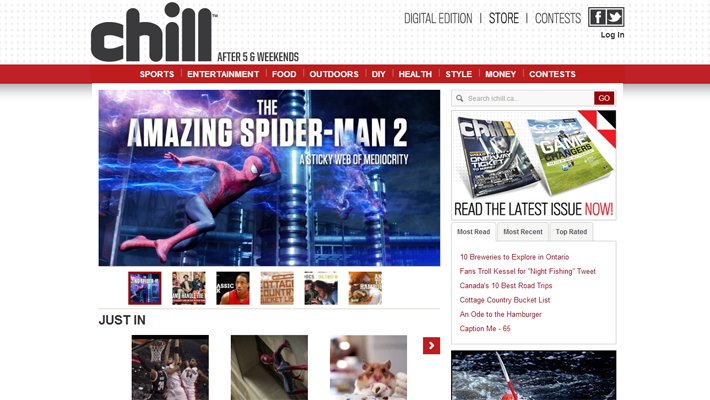 Chill is one of the latest magazines to launch a new site built with Agility's Publishing Package. The site, iChill.ca, is the go-to spot for Canadian men to catch up on the latest in sports, entertainment, lifestyle, travel and business news.
The magazine chose Agility's turn-key package, a content management solution tailored to magazine and media sites, to revamp its online presence.
Throughout the project, the Chill team came up with creative customizations to really make the Publishing Package their own. For example, the site's Article Listing pages are very different from the solution package's standard version. Instead of a vertical listing with square thumbnails, Chill opted to build an eye-grabbing two column layout with much bigger images.
"We wanted to build a new, dynamic site that reflects our contemporary audience of active and outgoing Canadian men," Paul Yeoman, online specialist at Chill Media Inc., said. "Agility helped us do that by listening to our feedback and building out all of our customizations."
Chill also took advantage of Agility's Inline Code – a feature that allows users to change the HTML markup of Page Templates on-the-fly without deploying changes to a webserver – and enjoyed being able to make changes to the site on their own.
"Overall, we're really happy with our experience working with the Agility team and its product," Yeoman said.
News Releases

Azure is helping Agility provide the scalability, reliability and security as part of our mission to offer customers a fully integrated web platform to manage all their web properties.

Read about Agility Ticketing, our integrated solution to help you sell, generate and redeem tickets.

Read about Agility's new Ecommerce solution, customizable and tailored to your needs, with a special emphasis on tracking valuable sales data and trends.