British Columbia Magazine's Website Wins IRMA Award
Jillean Keaney - October 28-2014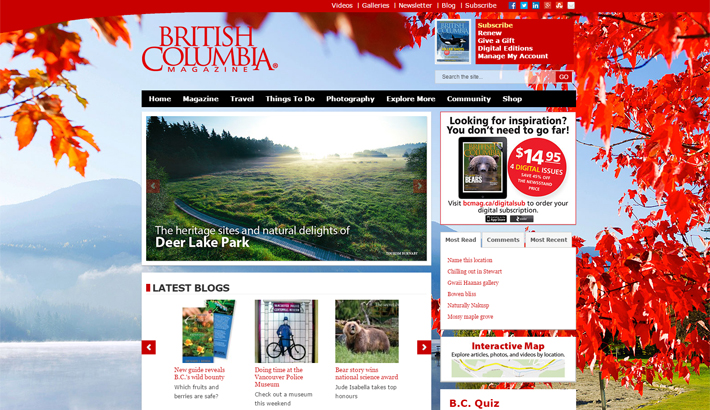 Agility is proud to share that British Columbia Magazine took home the silver for Best Companion Website at the 34th Annual International Regional Magazine Association Awards.
The International Regional Magazine Association (IRMA) is a hub the brings together regional publications. The IRMA website quotes D.W. Kuhnert, Editor in Chief Emeritus of Down East magazine, to define what a regional magazine is:
"A regional magazine is a general-interest magazine that aims to define, interpret, and explore a specific, recognizable region of those living there or yearning to. It should not be confused with a travel magazine, a shelter magazine, a photography magazine, an art magazine, a history magazine, or a gardening magazine. It is all these and more, and at its best is the authoritative voice for the particular area upon which it is focused."
The IRMA Awards celebrate the very best in regional magazines, and other categories award the best in travel features, essays, photo series and much more. To learn more about the IRMA, visit their website.
Congrats to Shanna Baker, Jane Zatylny, Ken Seabrook, Lesley Christian, Cindy Connor and the rest of the British Columbia Magazine team for their win!
News Releases

Azure is helping Agility provide the scalability, reliability and security as part of our mission to offer customers a fully integrated web platform to manage all their web properties.

Read about Agility Ticketing, our integrated solution to help you sell, generate and redeem tickets.

Read about Agility's new Ecommerce solution, customizable and tailored to your needs, with a special emphasis on tracking valuable sales data and trends.